The healthcare field is growing and constantly changing. More than ever, healthcare employers including hospitals, doctor's offices and clinics are relying heavily on medical assistants.
The Medical Assistant program is designed to help you acquire the practical knowledge and the specialized skills you will need as an entry-level medical assistant.
The Medical Assistant program includes:
160 Hours of classroom instruction
CPR Training
160 Hour externship
Certification
The Program can prepare you to take one or more state or national certification exams like the Medical Assistant Certification (MAC) exam through the American Medical Certification Association (AMCA), the Medical Assistant Certification (CCMA) exam through the National Healthcareer Association (NHA) or the National Certified Medical Assistant (NCMA) exam through the National Center for Competency Testing (NCCT).
It's A Great Time To Be A Medical Assistant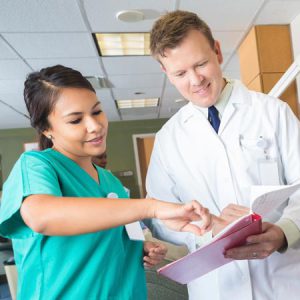 According to the U.S. Bureau of Labor Statistics, employment of medical assistants is expected to grow 29% from 2012 to 2022. Being a medical assistant is also a career that can lead you to other opportunities within the healthcare field.
What Skills Will You Learn?
As a student in the Medical Assistant program, you will receive training to perform a variety of administrative, laboratory and clinical duties. The program will introduce you to front office administrative responsibilities such as record keeping, scheduling appointments and processing insurance claims. The majority of the program will focus on back office clinical responsibilities. You will receive hands-on training on how to conduct a variety of diagnostic tests, take vital signs, draw blood (venipuncture), give injections and assist the doctor in patient procedures. You will also learn medical terminology, anatomy, physiology and pharmacology.
Once you complete the classroom portion of the program, you will attend a 160-hour externship where you will have the opportunity to demonstrate the skills you have learned.
We Offer Three Convenient Ways To Enroll
Use the enrollment form to begin your registration. Your spot will be reserved after you make a deposit or pay for a course in full. A representative will follow up with you within one business day to complete your registration.
Phone Call (800) 927-5159
You are welcome to enroll by speaking with one of our friendly student services representatives between the hours of 9:00am and 5:00pm Monday thru Thursday and from 9:00am to 1:00pm on Fridays.
Joining an info session is a great way to learn more about programs. Click the button below to view the upcoming schedule and to register. Online enrollment is available after the info session.