Only $1,995
Ask about the Returning Student Discount
Already in the Healthcare field? Learn additional skills to set you apart from your peers and impress your employer or pursue a new career as a medical billing and coding specialist.
Medical Billing and Coding Specialists enjoy one of the most secure careers available because they provide an essential function at the heart of one of the fastest growing industries in the country-healthcare!
Certified Medical Billing and Coding Specialists can find immediate employment in various settings including hospitals, clinics, doctors' offices, nursing homes, pharmacies, insurance companies, financial management companies, legal firms, consulting agencies and many more.
Online Instructor Led vs Self-Paced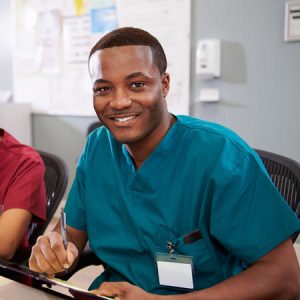 Instructor led learning is the kind of learning that happens in real time (live). This means that you, your classmates, and your instructor interact in a specific virtual place, through a specific online medium, at a specific time. Self-paced learning happens on your schedule. While your course of study will provide materials for reading, lectures for viewing, assignments for completing, and exams for evaluation, you have the ability to access and satisfy these requirements within a flexible time frame.
Certification
Upon the completion of the Medical Billing and Coding Program, the student will be eligible to sit for the Medical Coder and Biller Certification (MCBC) examination administered by the American Medical Certification Association (AMCA) or the Certified Medical Billing and Coding Specialist (CBCS) administered by the National Healthcareer Association (NHA).
IT'S A GREAT TIME TO BE A MEDICAL BILLING AND CODING SPECIALIST!
According to the U.S. Bureau of Labor Statistics, employment of medical records and health information technicians is projected to grow 11 percent from 2018 to 2028, much faster than the average for all occupations. The demand for health services is expected to increase as the population ages.
What Skills Will You Learn?
As a student in the Billing and Coding Program, you will learn to review medical records and translate diagnosis of patients into medical codes including ICD, CPT and HCPCS required by our healthcare system. You will learn how to work with healthcare professionals to determine care services and manage the claim process while gaining knowledge in anatomy and physiology and medical terminology. During the program you will receive coding practice to help you begin using your coding knowledge of the national diagnostic and procedural coding systems as well as the introduction to processing claims.
Program available online and throughout the country.
We Offer Three Convenient Ways To Enroll
Use the enrollment form to begin your registration. Your spot will be reserved after you make a deposit or pay for a course in full. A representative will follow up with you within one business day to complete your registration.
Phone Call (800) 927-5159
You are welcome to enroll by speaking with one of our friendly student services representatives between the hours of 9:00am and 5:00pm Monday thru Thursday and from 9:00am to 1:00pm on Fridays.
Joining an info session is a great way to learn more about programs. Click the button below to view the upcoming schedule and to register. Online enrollment is available after the info session.